Sheer carelessness on the part of a truck, deployed to plant trees in the New City Urban Area in the southern province of Binh Duong that rammed into an electric line at the national power grid, caused a massive outage in the southern region of Vietnam at 2.19pm on May 22.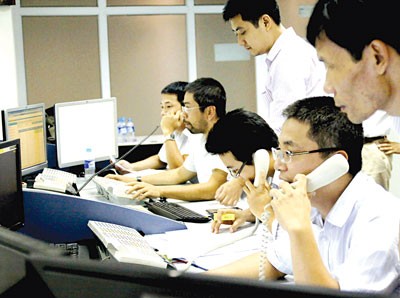 Staff at the National Load Dispatch Center trying to restore the electricity network (Photo: SGGP)
This careless act led to massive outage estimated at around 9,400 MW in 22 provinces and cities in the southern part of Vietnam, said the Electricity of Vietnam Group (EVN).
The collision immediately cut the 500 KV Di Linh-Tan Dinh transmission line causing a domino effect with all linked power transmission lines in all the provinces and cities in the southern part of the country.
EVN was quick to ask its subdivision, including the National Load Dispatch Center, the National Power Transmission Corporation, and electricity factories to mobilize all personnel to repair the outage.
By 3.54pm, EVN put back into operation 500kV of the north-south line and gradually restored power in the South.
In Ho Chi Minh City, as the power cut happened at off peak hours, there were not many traffic jams at crossroads. Moreover, wardens were present at busy crossroads in Districts 1, 3, 5, 8, Binh Thanh and Phu Nhuan to control traffic.
With students in the middle of a summer vacation the streets were less crowded. All administrative work had to stop as documents are saved in computers. Many hospitals were at a loss as several patients were on respirators.
The Mekong Delta provinces of Soc Trang, Hau Giang, Ben Tre also suffered outage. Huynh Van Nuoi, head of Management Board of Industrial Parks in Ben Tre said enterprises of Giao Long Industrial Park called to complain losses due to power cut.
By 10.40pm, electricity was restored in 22 southern provinces. EVN apologized to customers for the inconvenience.
Authorities have seized the truck which caused the accident for further investigation.