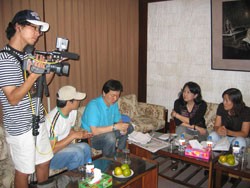 SGGP staff writers (1st, 2nd, R) hold talk with MBC at the SGGP's office (Photo: Cong Quoc)
The Republic of Korea's Munhwa Broadcasting Corporation (MBC) conducted an interview about marriages between Vietnamese women and Korean men with staff and reporters of the Sai Gon Giai Phong (SGGP) newspaper on May 11.
The talk also covered issues about Vietnamese readers' response and public opinions of the article "Vietnamese virgins coming to Korea – a nation of hope", published by the Chosun Ilbo newspaper.
 
The SGGP newspaper provided MBC with its articles in relation to the Chosun Ilbo's article, which it said, had smeared Vietnamese women's dignity.
 
The newspaper's representative talked about inter-racial marriages in Viet Nam, solutions for preventing illegal brokerage of marriages with foreigners and related issues. 
 
Accordingly, to ensure the legality of inter-racial marriages, particularly between Vietnamese and Korean, governments of Viet Nam and the Republic of Korea should sign an Agreement on Judicial Cooperation and have measures to control this marriage brokering activity, securing the rights of people involved .
 
Vietnamese authorities are currently developing measures to prevent illegal marriage businesses, help women understand related issues in marriage with foreigners. There are also suggestions the Government legalize brokerage of marriages with foreigners.
Related articles:
Chosun Ilbo Newspaper Apologizes to Vietnamese Readers
Letters of Viet Nam Women's Union to Korean Authorities
Viet Nam Women's Union Requires Korea's Chosun Newspaper to Apologize
Unacceptable Advertisement on Marriage to Vietnamese Ladies