Measures need to be taken to improve the security of the food supply, members of the Union of Science and Technology Associations said.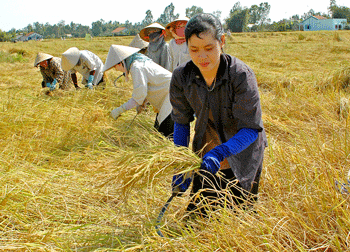 Farmers in Long An province are harvesting fragrant rice Nang Thom Cho Dao for export
Advanced technology must be used to create high-yield, insect-resistant rice, harvesting techniques need to be improved to reduce loss, a greater variety of rice-made products should be offered, food exports should be reduced, terraces must be created for paddies, and industrial parks should not be built on areas used to grow rice, said Professor Tran Dinh Long of the Vietnam Seed Trade Association.
Agricultural land is being converted to other uses, said Pham Sy Liem of the Vietnam Construction Association. There is not even a policy to retain land for agricultural use. Golf courses or industrial zones have reduced areas that were once a rice basket into patchworks of fields. This threatens the security of the food supply.
Viet Nam exports over 4 million tons of rice year. However, the population is projected to reach 120 million by the middle of this century. The government must take this into account when addressing land use and food security issues.
Maintaining agricultural land protects the food supplies and the culture of wet rice cultivation, Professor Ton Gia Huyen of the Institute for Urban and Infrastructure Development Research.
As paddies get smaller, the next generation won't want to farm, farmers will become unemployed, social evils soar, and conflicts between family members rise.