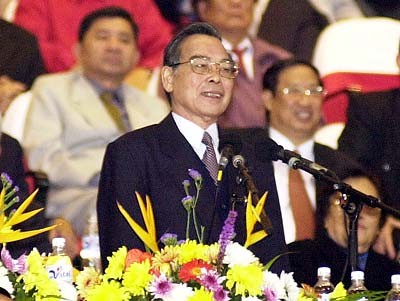 Prime Minister Phan Van Khai
Prime Minister Phan Van Khai, ministers and leaders of cities and provinces, at a meeting in Ho Chi Minh City on December 28 for the socio-economic development plans for 2006, tried to find out measures to crack down on these dishonest activities in carrying out State-funded projects.
Mr. Khai said one of the tasks is to put an end to such dishonesty in bidding. One of the points is to select truthful and qualified officials to take responsibility.
He added, "We must have rules on finance and technology for the bidders when issuing guidance for the Law on Bidding, focusing on sanctions."
Transport minister Dao Dinh Binh said, "We have to immediately solve problems in infrastructure construction in enterprise-oriented manners. We have to ensure that consultancies and bidders get access to all mechanisms they need."
He pointed out an improper detail that the cost for supervision consultancies is stipulated to be just half of that for design consultancies but the former group has to work longer with more expertise.
Another question is that in some cases, the money paid in advance for some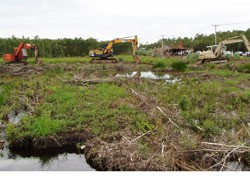 A construction site in Ho Chi Minh City. Wastefulness has been popular in construction, according to a Ministry of Construction report. (Photo: Tuong Thuy)
packages is higher than that for costlier packages. Deal with this, the project owners have separated a package into smaller parts, thus requiring more time.
Mr. Binh also mentioned inappropriate regulations in adjusting the cost based on inflation. With the regulations, the contractors want to delay works to enjoy these adjustments.
The participants at the meeting also spoke about rings in carrying out infrastructure projects. The rings, to some extent, have resulted in corruptions or wastefulness. Prime Minister Khai said one of the tasks is to crack down on those rings.
A Ministry of Construction report revealed a shocking figure that an inspection into 24 construction projects with a combined investment capital of VND17.1 trillion discovered that VND477 billion of the investment was spent wastefully.