A meeting commemorating the 70th anniversary of National Resistance Day (December 19) took place in Hanoi on December 18.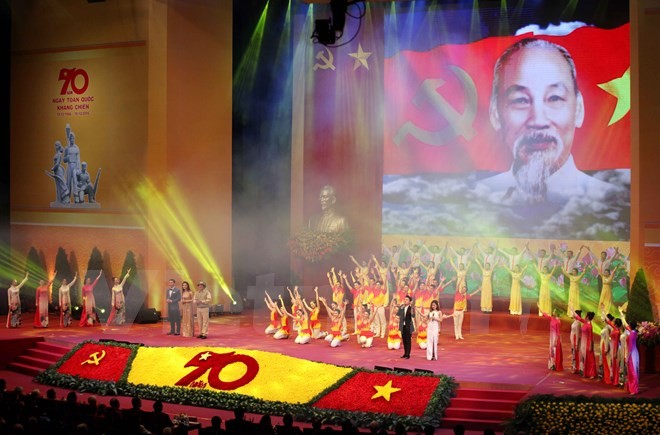 At the event (Photo: VNA)
Party General Secretary Nguyen Phu Trong, President Tran Dai Quang, National Assembly Chairwoman Nguyen Thi Kim Ngan, former Party and State leaders and nearly other 3,500 delegates attended the event.
Following the success of the August Revolution 1945 and the establishment of the Democratic Republic of Vietnam, the French sped up their attempts to re-occupy Hanoi and other areas.
On the evening of December 19, 1946, the Vietnamese troops in Lang fortress zeroed in on targets in inner city, initiating the resistance war.
The next morning, the Radio Voice of Vietnam broadcast President Ho Chi Minh's appeal, urging the entire people of Vietnam to resist the French's restoration of colonial rule in the country.
In response to the appeal, the Hanoi's army and people heroically fought for each of their houses and corners during 60 days and nights. As a result, they managed to contain the enemies and foil their scheme to capture major Vietnamese organs. 
Throughout nine years of the resistance war, the entire Party, people and army scored a number of feats that culminated in the glorious Dien Bien Phu campaign victory, laying foundation for national liberation and reunification under the leadership of the Communist Party of Vietnam.
Speaking at the event, Secretary of the municipal Party Committee Hoang Trung Hai recalled the spirit and significance of the 60-day-and-night resistance and expressed his belief in the national construction and development at present.
Earlier, delegations from the Party Central Committee, the Government, the National Assembly, the Vietnam Fatherland Front Central Committee, and the Hanoi authorities paid floral tribute to President Ho Chi Minh at his mausoleum and heroic martyrs at a monument dedicated to them.
Incumbent and former Party and State leaders were also present.