Yesterday, the Military School of the Volunteer Combat Unit of the Sai Gon - Cho Lon - Gia Dinh Special Forces (SCGSF) organized a meeting to commemorate the 40th anniversary of the 1968 Tet Offensive.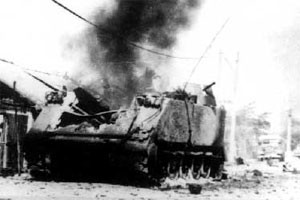 A US tank on fire during the Tet Offensive

Heroic Vietnamese mothers, senior revolutionaries, the Board of HCMC Resistance Club and 250 members of the Voluntary Combat Unit recalled memories of the North Vietnam's offensive against the forces of both the United States and the former South Vietnam in almost every city and province across southern Viet Nam over the Tet holidays (lunar new year), forty years ago.

Preparations for the Offensive were begun by the Central Office for South Vietnam of the SCGSF entrusting the Voluntary Combat Unit with transporting weapons from liberated areas to districts within almost every city of the South and establishing arms depots there.

From May 1965 to Tet 1968, the Voluntary Combat Unit managed to turn many civilians' houses throughout South Vietnam into arms depots.

Thanks to the success of Voluntary Combat Unit's mission, North Vietnamese forces had sufficient weapons to attack the US Embassy and a number of nerve centers of the then-Saigon government, like Independence Palace, broadcasting stations, General Staff Headquarters and the offices of the Navy High Command of the former Republic of Vietnam.
In related news, the Khanh Hoa Province Veteran Association has uncovered a large pit of corpses of revolutionary soldiers killed in the Offensive.
The pit is located on a site of the Road Joint –Stock Company No. 505 by the foot of the Ru Ri Pass.
Excavations were carried out based on a report of Tram Long, a local resident, who, in the morning of the eighth day of the new lunar year 1968, witnessed three vans of the Republic of Vietnam's Armed Forces transporting some 30 corpses each to the site. Tram said a large pit was dug after and nearly 100 bodies were buried in it.
After conducting a number of investigations and surveys, the Khanh Hoa Veterans Association proposed the provincial People's Committee to let them uncover the pit.
According to the veterans taking part in the excavation, most of the victims were commandoes from Khanh Hoa Province.