Argentinean Foreign Minister Héctor Timerman has described the 40th anniversary of Vietnam – Argentina diplomatic ties as an ideal occasion to reaffirm their commitment to bolstering friendship and cooperation.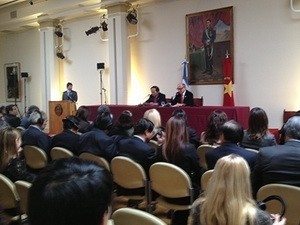 At the event (Source: VNA)
At a meeting held in Buenos Aires on September 20 to mark the anniversary, Foreign Minister Héctor Timerman made clear his country's interest in further developing strategic ties with Vietnam , evidenced by President Cristina Fernández's visit to the country early this year.
He noted that Argentina is looking forward to President Truong Tan Sang's visit in 2014.
Vietnam's visiting Minister of Culture, Sports and Tourism Hoang Tuan Anh responded by hailing the thriving cooperation seen recently in many areas, especially culture – which he described as a crucial bridge in forging a close relationship between the two Governments and peoples.
He said he hopes events like the ongoing "Vietnam Days in Argentina " and November's upcoming " Argentina cultural week in Vietnam " will further develop their cultural exchanges.
Since the establishment of diplomatic ties on October 25, 1973, Vietnam and Argentina have inked scores of cooperation deals in a wide variety of sectors. Two-way trade topped 1 billion USD for the first time in 2011.
In the first eight month of this year, the figure soared 48 percent to 1.92 billion USD. Vietnam mainly ships footwear, electronics, rubber and garments to the South American country, while importing animal feed, animal and plant oil, seedlings and medicine.