On the occasion of the 2550th Buddha's Birthday (Buddhism Calendar), a meeting among dignitaries, monks and the clergy of the Vietnamese Buddhist Sangha and Ho Chi Minh City Buddhist Sangha was held by the HCMC Fatherland Front Committee (HFFC) on May 3.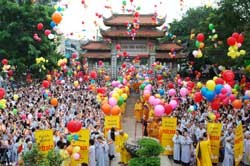 The annual Buddha's Birthday is solemnly held at Vinh Nghiem Pagoda

Addressing the meeting, Chairman of HFFC Tran Thanh Long highly appreciated great contributions made by the Vietnamese Buddhism in the cause of national liberation and construction.
This Buddha's Birthday, which falls into the even year of Buddhism Calendar 2550, takes place in an exciting atmosphere with the successes of the 10th National Party Congress and the UNESCO's recognizing the annual Buddha's Birthday as the World's Religious Festival Day.

Superior Buddhist Monk Thich Tri Quang, Vice Chairman of the Vietnamese Buddhist Sangha, Head of Management Committee of HCMC Buddhist Sangha said that thanks to the policies of religious freedom and great national solidarity , the Vietnamese Buddhism has incessantly developed in the past years; the majority of monks, nuns and Buddhists have made practical contributions to the development of the whole country.
As a representative of the Vietnamese Buddhist Sangha to attend the World Buddha's Birthday Festival held in Bangkok, Thailand, from upcoming May 7 to 10, Superior Buddhist Monk Thich Tri Quang said that the Vietnamese Buddhist delegation will organize many activities to popularize Viet Nam's religious policies.