Prime Minister Nguyen Tan Dung has called on the Mekong Delta provinces' agricultural sector to promote large-scale production, change their growth model and strengthen production links.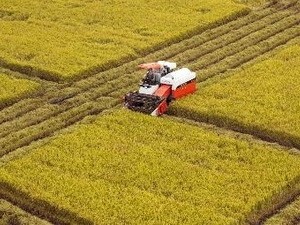 Rice harvesting in a large-scale paddy field in Hau Giang province (Photo: VNA)
The Government leader made the appeal on July 11 at a working session with key officials of the delta's three biggest granaries, An Giang, Kien Giang and Dong Thap provinces which aimed at discussing solutions to remove difficulties and boost production and sales towards sustainable development.
He underlined the Mekong Delta's biggest advantages of food production, fruit farming and aquaculture, while pointing out numerous difficulties and shortages faced by the sector, such as slowing production and drops in yield and farmers' income.
PM Dung urged the region and three provinces in particular to shift the agricultural economy towards large-scale production.
The provinces should firstly focus on building and expanding large-scale paddy fields, developing concentrated material areas in association with trademark building, he said, adding that there should be a close connection between production, process and selling.
Special importance should be attached to trade promotion and market expanding, as well as encouraging enterprises to invest in agriculture and rural development, he noted.
The PM also requested regional localities to successfully purchase food for the State stockpile, restructure loans for farmers and enterprises, offer production training for farmers, and adopt technologies to improve productivity and quality.
Speaking at the event, Agriculture and Rural Development Minister Cao Duc Phat said localities should review rice production planning and diversify crops suitable to the land, cultivation conditions and the market.
In addition, crops should be secured from natural disasters such as salt intrusion, floods and droughts.
Regarding tra fish and shrimp farming, Minister Phat stressed solutions to lift trade and technical barriers, strengthen trade promotion, enhance traditional and large markets, and explore new markets.
Aquatic infrastructure should also be prioritised while controlling pesticide use in aquatic farming areas and setting up a pandemic warning system, he urged.
Expressing their interest in the large-scale field model, senior officials from An Giang, Kien Giang and Dong Thap provinces and several enterprises recommended the Government soon promulgates policies supporting production-consumption connectivity, and strengthen trade promotion of staple agricultural products.
They also asked relevant agencies to pay more attention to market forecasting, supporting businesses' investment in agriculture and developing production areas attached to building manufacturing-processing-consumption establishments.