The Mekong is one of the three deltas on Earth that will suffer most from climate change. More than eight million people may lose their homes if sea levels rise by one meter, experts have recently warned.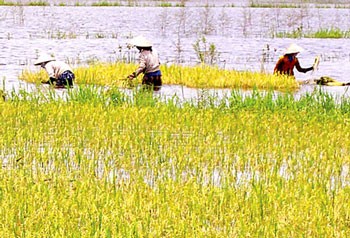 Mekong Delta farmers hardly harvest rice in the flood season.
The unavoidable effects of climate change will create worse flooding and acute shortages of fresh water during the rainy season.
Annually, 408 billion cubic meters of water flow from the upper Mekong River to the Mekong Delta region and through two main rivers of Tien and Hau, according to the Southern Irrigation Planning Institute.
The flood season in Mekong Delta falls in June and July and ends in November and December, with a peak flow of 28,000 to30,000 cubic meters per second.
"Farming areas, including Tram Chim, U Minh Thuong, Lang Sen, Tra Su, Ha Tien, Vo Doi, Bai Boi and Lung Ngoc Hoang will be narrowed," said Le Anh Tuan, an official from the Climate Change Research Institute of Can Tho University.
The peak flow of the Tien and Hau rivers is between 3,000 to 5,000 cubic meters per second in the dry season, leading to a lack of freshwater in the Mekong Delta.
If forest exploitation and the change of land-use continue unabated, combined with an unchecked increased demand of freshwater in Thailand's northeastern region, Laos and Cambodia, freshwater supplies in Mekong Delta will become drop even further.
Seawater already flows 40 to 50 kilometers inland, penetrating deep into the Mekong Delta, especially in the dry season.
Climate change will see an ever increasing encroachment of seawater inland, which will damage more crops and effect farm production.
Reservoirs used to store freshwater and a dike system at river tributaries to control water flow and prevent sea water encroaching further inland need to be built soon, said Ky Quang Vinh, director of the Can Tho City Environment Survey Agency.