Dike consolidation and flood prevention work is being conducted in the Mekong Delta in preparation for the flood season next month. Houses will be built for 30,000 families in high-risk areas, according to local officials.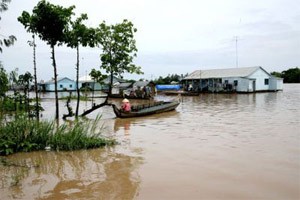 The Mekong Delta in the previous flood season

Provincial governments in the delta will assist those who wish to elevate their houses. The provinces will pay up to VND9 million (US$560) for the building materials needed for each house.

The government has spent VND3,300 billion (US$206.25 million) on 820 project to protect inhabitants in the flood plains by improving roads, electricity distribution, water supply systems and dikes. Of these projects, 812 have been rated successful. Over 83,000 houses were built to accommodate 120,000 families.

The rainy season increases the threat of landslide in 142 river sections, especially along the Tien and Hau Rivers.

Landslides have occurred in 84 areas with a total length of 160km in Dong Thap Province. In the neighboring An Giang Province, there are 42 areas along the Hau, Tien and Vam Nao Rivers that are threatened by landslides.

In the city of Can Tho, landslides in the Binh Thuy, Phong Dien, and Ninh Kieu Districts have swept away a large number of local houses.