Following Tet (Lunar New Year) in February, many companies in the Mekong Delta have been facing a significant dearth of workers.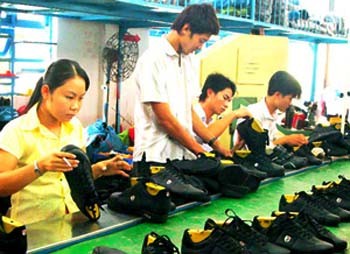 The Mekong Delta is facing a severe shortage of workers in the garment, leather shoes, and seafood processing sectors (Photo: SGGP)
Huynh Thanh Tan, head of the human resources department at Ty Xuan Ltd. Company of Hoa Phu Industrial Zone (IZ) in Vinh Long Province, said his company needed to recruit around 3,000 workers to produce leather shoes.
The job pays VND1.5-1.7 million a month and since Tet, the company has only taken on 500 workers.
Some workshops in Dong Thap Province are even looking to Tien Giang and Long An provinces for employees, but the efforts have still not been enough to meet demand.
In Vinh Long Province, many companies from Hoa Phu and Co Chien IZs are in need of up to 7,000 workers in total, but recruitment efforts have been unsuccessful.
Huynh Kim Hoang from Vinh Long Province's Employment Service Center said the Mekong labor shortage has been a problem since 2008.
At present, 13 businesses are using the center's services to find workers. Most companies have even lowered education requirements so that any secondary school graduates can apply. Formerly, the minimum requirement was a high school diploma.
Despite the new policy, however, enterprises are still failing to attract employees.
Seafood processing businesses in Ca Mau are also struggling to find 1,000 workers while in Long An Province, hundreds of companies at 10 IZs have announced a need for 5,000 workers total.
The IZ management board of Long An Province says it is working with employment service centers in the Mekong Delta, but results have been minimal.
Nguyen Quoc Vung, director of the Can Tho City's Youth Employment Service Center, said that just 10 percent of businesses' recruitment demand is currently being met.
For instance, companies like seafood processor Hoang Long in Dong Thap Province, furniture maker Dai Co, and manufacturer T&T in Can Tho City have asked the center to recruit 3,000 workers total since before Tet, yet not a single worker has been recruited, Mr.Vung said.
Better pay, perks needed
According to a 2009 year-end meeting between the Vietnam General Confederation of Labor and southern provinces' labor federation, the average salary of VND1.3-1.5 million a month for workers is one of the biggest deterrents to potential employees.
A seafood processing worker said that after three years of continuous work, she was earning just VND2.5 million.
Her friends who work in the garment industry have even lower salaries, she said. As a result, they are always willing to leave for other companies that pay more.
Recruiters said the Mekong Delta offers more choice for workers now, like running their own businesses or farms.
In addition, most people don't want to live far from their families and are apprehensive about working in an industrial environment.
Some companies, moreover, only recruit seasonal workers to avoid having to pay health and social insurance fees.
According to the Ministry of Labor, War Invalids and Social Affairs, 73.5 percent of the country's labor force is now concentrated in rural areas.
Of this, the Mekong Delta accounts for 21.49 percent with just 6.7 percent of workers employed by companies.
And while Mekong businesses are desperately seeking workers, thousands of local residents have left their hometowns to work in HCMC and Binh Duong and Dong Nai provinces.