According to the Southern Institute of Irrigation Planning, the impact of the collapse of Sepien Senamnol hydropower dam on July 23 to the region resulted as the water level at Tan Chau and Chau Doc stations were measured at 4cm to 5cm higher than normal.
In the end of July, the water level at Tan Chau station can reach 3.10m; Chau Doc station at 2.55m. At present, water levels at Dong Thap Muoi stations are rising.
In order to protect agricultural production and prevent damages from floods, the General department of irrigation suggested the departments of provinces and cities in the region to take measures to deal with the flooding ensuring in harvesting the autumn-summer crop in An Giang, Dong Thap and Long An provinces and the safety of local people.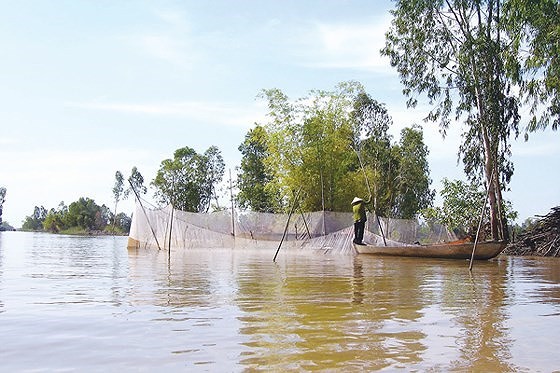 flooding season in the Mekong Delta region -Photo: SGGP
Authorities need to check on local dyke systems and pay attention to weather forecast from the Ministry and the Institute via www.siwrp.org.vn or sending requests via email dubaoluvqhtlmn@gmail.com.
Mr. Le Minh Thuan, deputy chairman of An Giang province's An Phu district said the authority had planned to deal with early floods pledging that local people will be announced timely about the flooding, heavy rains and the possibility of even storms.
Mr. Vo Thanh Ngoan, deputy director of department of agriculture & rural development in the Mekong Delta province of Dong Thap said the authority annually has plan to check on the dyke system and mobilize local investors to set up hi-tech pumping systems to cope with the collapse of dam or sewage system.
To cope actively with the flooding from upper areas, the Mekong provinces asked localities to up to date weather forecast, tide information and announcing to local people timely about the complicated situation.
In addition, authorities have to plan for harvesting rice and vegetables in the midland and lowland areas & outside the dyke systems.