The Mekong Delta Economic Cooperation (MDEC) Forum opened in Ca Mau province on Oct. 19, drawing the participation of 500 domestic and foreign managers, businesspeople, economists and scientists.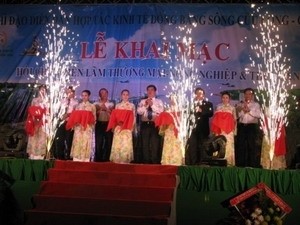 Mekong Delta Economic Cooperation Forum opens (Source: VNA)
The three-day event, themed "the Mekong Delta – connectivity for sustainable development", will include a workshop on mechanisms for the regional linkage, a conference on trade promotion and a business forum.
The Mekong Delta International Economic Cooperation Conference and the 2011 Mekong Delta - Ca Mau Economic Cooperation Conference will also be held.
Established in 2007, the MEDC forum aims to promote economic cooperation and links between Mekong Delta provinces and Ho Chi Minh City . The annual forum is hosted in rotation among the Delta provinces.