According to the National Hydro Meteorological Forecasting Center, the Mekong Delta will undergo a shortage of freshwater and worse salt penetration during the dry season this year.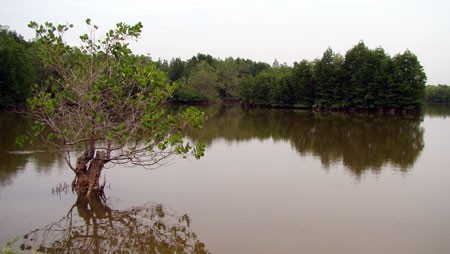 Salt water will penetrate further inland in the Mekong Delta this dry season (Photo: CAND Online)
Water level in the upper reaches of Mekong River will be much lower than average level of several years.
Salt penetration will occur earlier compared to previous years on rivers like Vam Co, Tien, Hau, Doc, Cai Lon, Ham Luong and Co Chien, where salt water might penetrate 55-70 kilometers inland. 
In Soc Trang Province, drought has worsened salt intrusion to reduce output of tens of thousands of hectares of winter spring rice area and threaten another 20,000 hectares.
Provincial authorities have instructed residents in communes along the Hau River to fortify the embankment system to prevent salt water from further penetrating into rice fields. They have also dredged canals and conserved freshwater to cope with drought.
The salt penetration has caused a scarcity of freshwater in Binh Dai and Ba Tri Districts in Ben Tre Province over the last one month.
At present, local people have to pay VND30,000-60,000 for a cubic meter of freshwater.