Widespread farming of free-range ducks and a slackening in the campaign to vaccinate water fowl are threatening a fresh outbreak of bird flu in the Mekong Delta.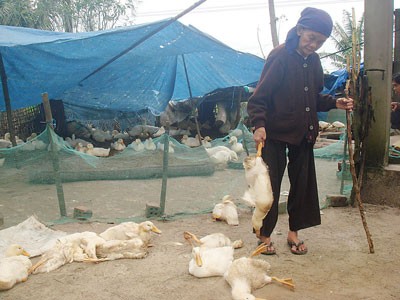 The woman, the mother of farmer Le Xuan Doi in the central province of Quang Nam, disposes of ducks that died of bird flu. The disease is again threatening to rear its head in many areas in Vietnam ( Photo: SGGP)
According to official agencies, the disease occurred in Tra Vinh, Dong Thap, Soc Trang, Ca Mau, and Kien Giang provinces and Can Tho last year, killing 31,350 ducks.
Local administrations undertook intensive measures and managed to stamp out the epidemic, but then they relaxed their vigil.
For instance, in the Mekong delta province of Hau Giang which has around 3 million water fowl, health workers immunized over 97 per cent of the birds during the first round of vaccination but the rate plummeted to 60 per cent the second time around. The situation has been repeated in province after province.
Local administrations blame it on a shortage of veterinary workers and a preponderance of small farms with free-range birds scattered around the region.
Mr. Nguyen Hien Trung, head of the Hau Giang Department of Animal Health, warned about a possible resurgence of bird flu -- winter is normally the peak season – because water fowls raised on small farms in remote and distant areas are not adequately vaccinated.
The head of the Dong Thap Province Department of Animal Health, Vo Be Hien, said a thorough vaccination campaign must be carried out to head off the epidemic.
It is necessary to make local officials and agencies responsible for the task and raise public awareness of the disease, he said.
Central outbreak

Around 100 ducks in a flock of 300 owned by farmers Le Xuan Doi and Ngo Van Minhin in Nui Thanh District in the central province of Quang Nam died five days ago.
They suspect the deaths that spread from their neighbor's house. The neighbor reportedly cooked and ate a duck that had died of the disease instead of destroying it, and wastewater from his house, that flows into the local canal, spread the disease.
Surprisingly, the head of the province Department of Animal Health, Pham Ngoc Anh, said there were no poultry deaths in his area though the two farmers said that they had immediately reported their birds' deaths to commune officials.
The cause of the birds' deaths is yet to be officially ascertained.
Minister of Agriculture and Rural Development Cao Duc Phat has instructed all local authorities to carry out measures before and after the Lunar New Year to stamp out the disease.
He told officials to tour villages and report to the ministry about the disease.
He also ordered them to closely monitor transport, sale, and slaughter of poultry, disinfect farms, and prepare for a comprehensive vaccination campaign targeting every single bird in the coming weeks.