A huge area of forest-land in the Mekong Delta is facing the danger of forest fires due to a recent spell of hot weather.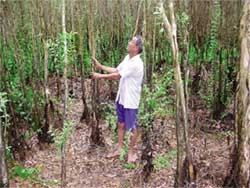 Cajuput forest in the Mekong Delta is dry
Over 30,000 hectares of cajuput forest in Ca Mau Province are becoming very dry, half of them being at high risk of catching fire, according to the province's Forestry Department. Water levels in both the canals and the water table are very low.
Over 8,000 hectares of cajuput forest in Kien Giang Province is facing the same situation.
In An Giang Province, the temperature has consistently ranged between 24-35 Celsius degrees lately, while humidity levels in the forested areas have fallen to very low levels.
While out-of-season rain fell yesterday in Can Tho Province and surrounding areas, it only lasted for about 15 minutes, which won't be enough to lower the threat of fires occurring in the area.