A farmer from Phong Nam, an island commune on Hau River, in Ke Sach District of Soc Trang Province in the Mekong Delta has successfully propagated a unique variety of violet longan fruit that has now become hugely popular with people willing to pay exorbitant amounts for both the fruit and the sapling.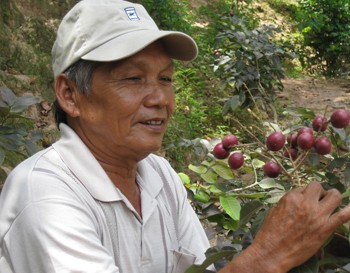 Huy holding the mother violet longan branch (Photo: SGGP)
This unique variety of longan was discovered by chance by Tran Van Huy when he was tending to his longan orchard ten years ago and found one branch of an 18-year-old longan tree sprouting violet leaves.
Huy marked the tree and nurtured it carefully. When the branch blossomed he found it bore violet fruit.
 
He then pruned the branch and transplanted it close to his house so that he could take care of the plant more closely. After a year the tree blossomed again with violet fruit and soon Huy propagated ten more trees from it.
Nguyen Minh Canh, deputy chairman of the People's Committee of Phong Nam Commune said that the violet longan was introduced to the public for the first time in June at a fruit festival on My Phuoc Islet.
The People's Committee persuaded Huy to take 5.5 kilograms of violet longan to present at the festival. To their surprise, people showed great interest in the fruit and the entire lot sold off quickly for VND100,000 a kilogram, eight times higher than normal price.
Several traders in the Mekong Delta are now willing to pay upto VND80,000 a kilogram for the new variety of fruit and VND1 million (US$48) for a single sapling.
Huy hopes that scientists and the agricultural industry will further develop this new longan variety in the delta.
 
Vu Ba Quang, deputy head of the Department of Agriculture and Rural Development in Ke Sach District, said that his department would help Huy to patent the violet longan brand and develop it as a commercially viable fruit.