Japanese sweet potato growers in the Mekong delta provinces are facing difficult time as prices have tumbled by 70 per cent compared to the previous time, because Chinese traders suddenly refused to buy the farm produce. Once again, this is an alarm call on cultivation practices that have no official endorsement from the Department of Agriculture and Rural Development.
Last September, many farmers in the Mekong delta region, especially in Vinh Long Province leased their fields for Japanese sweet potato cultivation for around VND40-60 million per hectare (US$1,920-2,880), even though this is the best time for winter-spring rice planting with direct growers earning VND500 million a hectare.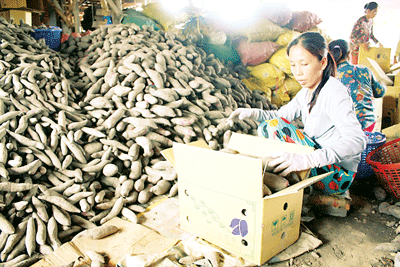 Farmers despair as Japanese sweet potato prices fall in the Mekong delta (Photo: SGGP)
Subsequently, the area for sweet potato planting has gone up substantially, from one hectare to 30 hectares in just one year.
Farmers in the province now sell their crop for a mere VND300,000 a quintal compared to VND1 million a quintal last September. In Tan Thanh, Thanh Trung, Thanh Dong, Nguyen Van Thanh and My Thuan Communes, huge sweet potato fields are now over-ripe but farmers are refusing to harvest, as the price is far too low.
Farmer Nguyen Van Sau from Tan Thanh Commune said farmers have earned only VND10 million from the crop while they spent more than VND12 million, facing an imminent loss of VND2 million.
The sudden drop in sweet potato price could have resulted from price manipulation by Chinese traders.  When the price of Japanese sweet potato was high and bought by Chinese traders, many farmers switched their vegetable and rice areas to growing the crop, despite warnings by agriculture officers who disagreed with following new and unknown trends.
Most of the fields in Co Do District at the moment are under Japanese purple sweet potato cultivation, to sell to Chinese traders.  Ngo Thanh Son, head of the Department of Agriculture and Rural Development in Co Do District in Vinh Long Province, said authorities are very worried about the increase in area for sweet potatoes as this will destroy the local planting process.
Son added that more than 600 hectares of rice growing area has been transformed into sweet potato fields, most of which were leased to farmers from Dong Thap and Vinh Long Provinces. Agriculture officials have told farmers not to follow the new trend because it is totally dependent on Chinese traders.
Vietnamese people favour sweet potato varieties with white or beige flesh more than the Japanese kind. Consequently, farmers do not plant so much purple variety; however, when Chinese traders pushed up the prices of the farm produce, farmers switched to growing almost 80 per cent of their area with it.
Later, when farmers harvested bumper crops, unscrupulous Chinese traders depressed the price and farmers took the flak, as the domestic market consumes very little of this variety.
Vo Van Theo, director of the Bureau of Agriculture and Rural Development in Binh Tan District in Vinh Long Province, said no enterprise in the country purchases and exports this farm produce except Chinese traders who completely decide prices and quantity.
It also reveals the loophole in law where Chinese traders understand clearly about potato growing areas in the Mekong delta; consequently, they lay down the law and terms.
Son Van Luan, head of Tan Thanh Cooperative petitioned the agriculture agencies that they should plan areas for growing sweet potatoes.