Farmers in the Mekong Delta want the Government to stockpile rice at the earliest as rice prices are continually falling with low demand and harvest of the winter-spring crop still far away.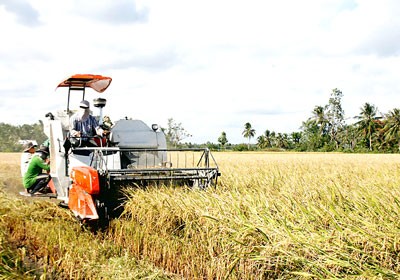 Farmers harvest rice in the Mekong Delta (Photo: SGGP)
Farmer Duong Van Chau from Thanh My Commune in Chau Thanh District of Tra Vinh Province still has unsold rice from the autumn-winter crop and is concerned that price will fall even further when they harvest the next winter-spring crop. 
At present, price of unhusked rice has dropped to VND5,200-5,300 a kilo and VND5,700 for high grade variety.
Le Van Lam, a sixty-one-year old farmer in Tan Hong District in Dong Thap Province, said he harvested eight hectares of high grade autumn-winter rice with output of 6.5 tons a hectare but the price at site dropped to VND4,650 a kilogram.
Farmers fear the price will further go down in peak harvest time of the winter-spring rice crop, the main crop of the year.
Price of husked rice is also falling with a kilogram fetching only VND6,900-7,350.
Pham Van Linh, from Vinh Long Food Company in Cai Rang Rice Market in Can Tho City, said that rice price has decreased because rice exports have slowed down.
Farmers in the Mekong Delta have seeded more than one million hectares of winter-spring rice crop on 1.6 million hectares. Some have begun to harvest their rice. Several farmers now look forward to the Government's rice stockpile policy, hoping it will constrain the fall in price.
Experts say that rice stockpile will help farmers feel secure, reduce consumption pressure on businesses and prevent traders from forcing farmers to reduce price.
According to a report of the Ministry of Agriculture and Rural Development, farmers have yielded bumper rice crops in 2012 with total output of 44 million tons, an increase of 1.26 million tons over last year. The rice cultivation area was 7.76 million hectares, an increase of 98,000 hectares year-on-year.
Rice export price in Vietnam has reduced by US$5-10 a ton. The price of 25 percent broken rice now hovers around $375-385 a ton, which is $5 lower than that from India and $155 lower than that from Thailand.
Five percent broken rice is exported at $405-415 a ton, which is $20 lower than the price from India and $130 lower than that of Thai rice.