Farmers in the Mekong Delta are rejoicing with a high yield of giant river prawns, fetching them huge profits with prices having increased this year.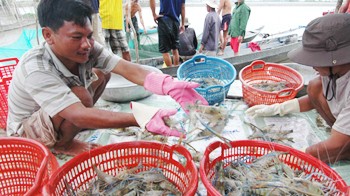 Giant river prawns being harvested in Tam Nong District, Dong Thap Province (Photo: SGGP)
People's Committee of Dong Thap Province on Sunday said that farmers breeding giant river prawns reaped a bumper harvest, especially in Tam Nong and Lap Vo Districts.
Dong Thap Province has a total of 1,500 hectares of giant river prawn cultivation, producing 1.2-1.8 tons per hectare.
Traders are paying high prices of VND240,000-270,000 a kilogram, netting farmers an average profit of VND60-100 million per hectare, the highest level for the last several years.
Most breeders in An Giang Province also sold giant river prawns at profitable rates, about VND70,000-90,000 a kilogram more than last year.
Le Minh Hoan, chairman of the People's Committee of Dong Thap Province said that breeding giant river prawns on rice fields during the flood season has yielded high benefits. The province expects to broaden the breeding area to 2,200 hectares to produce 3,500 tons by next year.
According to the seafood industry in the delta region, about 2.2 million tons of aqua produce was harvested this year, an increase of 252,000 tons since last year. This included 300,000 tons of tiger and white leg shrimps and 1.2 million tons of pangasius fish.