After four years since implementation of Viet Gap and Global Gap certificates, only 0.14 percent of 290,000 hectares of fruit orchards in the Mekong Delta have successfully applied GAP or Good Agricultural Practices.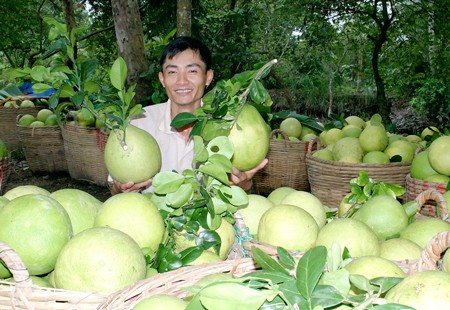 Global Gap certificate for My Hoa Grapefruit in Vinh Long Province has expired but farmers cannot afford a new one (Photo: SGGP)
Fruit cooperatives that struggled to meet hundreds of requirements to get Global Gap recognition are now facing endless difficulties in finding the right outlets for their produce.
The most serious and immediate concern is that their Global Gap certificates are no longer valid and they do not have the resources to go through the long drawn and expensive procedures yet again.
Global Gap certificates for Vinh Kim Star Apple Cooperative in Tien Giang Province and My Hoa Grapefruit Cooperative in Vinh Long Province have long since expired and renewing these is not an easy option for them anymore.
Several members have left My Hoa Cooperative to farm in their old traditional method. A member of the cooperative board said that they don't even have the basic US$10,000 to renew the certificate.
Rambutan Cooperative in Luc Si Thanh Island in Tra On District of Vinh Long Province said that their Global Gap certificate is about to expire but they do not have US$4,000-5,000 to renew it.
On the other hand, products under GAP standards do not have their own consumer outlets and as a result traders get paid for GAP fruits at the same price as other normal produce. Farmers do not enjoy many benefits from GAP standards but rather have to spend more time and money to get that recognition.
Dr. Vo Mai, deputy chairman of Vietnam Gardening Association, said farmers have become disillusioned with GAP because they have no support in getting the recognition.
Bui Thanh Liem, head of the Department of Agriculture and Rural Development in Cho Lach District in Ben Tre Province, said that production under GAP standards is necessary but farmers also need a stable outlet offering reasonable prices.
The State should have specific policies to help farmers renew their GAP certificates and assist businesses build brand names and broaden markets.