With only a few days to go before Tet Lunar New Year, people in the Mekong Delta Provinces are busy decorating their homes and filling them with flowers to welcome Tet.
This year has undoubtedly been a profitable year for farmers, who raked in huge profits from sale of aqua and agro products.
Farmers enjoy better living standards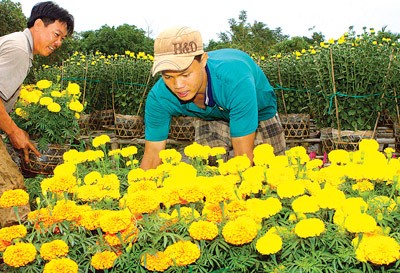 Farmers in Sa Dec Commune of Dong Thap Province transporting flowers to the markets (Photo:SGGP)
Lam Van Doi, a farmer in My Khanh Commune of Phong Dien District in Can Tho City, was officially chosen by provincial authorities for receiving support for a poverty assistance program, prior to Tet Lunar New Year.
Doi was touched and thanked the government for their attention and care of war veterans. He accessed a preferential loan of VND9 million to grow fruit trees in 3,000 cubic metres of land. By selling fruits, he was able to earn enough money for his livelihood.
Now, with a good profitable margin and savings, Doi hires three workers to grow rice and pays for his son's education. Currently, his family's living standards have improved, becoming one of the many households moving out of poverty in the Mekong Delta.
Le Hoang Doanh, deputy chairman of the My Khanh Commune People's Committee said that there were 27 households who were able to move out of poverty in 2011 with an average income of VND17-20 million per year.
In addition, some households donated hundreds of square metres of   land for road expansion as also to construct new roads.
Van Tho, a farmer from Vinh Phu Commune in Thoai Son District of An Giang Province said that farmers in the province were happy as last year they harvested three rice crops and sold at high prices, so now they will enjoy a good joyous Tet.
Tho said that he had planted 10 hectares of rice that yielded 9-12 tons per hectare on which he made a good profit, saying this with a bright smile.
In 2011, tra fish (pangasius) export turnover reached more than US$1.8 billion. Most farmers made high profits because they sold fish at higher prices compared to 2010.
Nguyen Ngoc Hai, chairman of Thoi An Seafood Cooperative in O Mon District of Can Tho City said that farmers made a profit of VND3,000 – 4,000 per kilogram from tra fish (pangasius).
The cooperative also raked in high profits on a tra fish output of 11,000 tons in 2011. This helped improve lives of farmers in the district, Hai said.
Some households even made profits of hundreds of billions of dong, so now they will enjoy a prosperous Tet.
In Ben Tre Province, traders are buying green skin grape fruit at VND30,000 – 35,000 per kilogram or VND110,000 – 200,000 for 12 grape fruit. With these prices, fruit farmers make good profits.
Huynh Van Sang, deputy head of Hoa Loc Mango Cooperative said that this is the third year the cooperative signed contracts with domestic companies for VND60,000 per kilogram. In addition, the cooperative exported four containers of mango to China.
Many farmers in Can Tho City also supplied special products for the Lunar New Year such as wine-gourds and gold-bar shaped pomelos and square shaped watermelons.
Tran Thanh Liem, a farmer in Binh Thuy District of Can Tho City supplied 200 pairs of gold bar shaped watermelons this Tet with 'Phuoc' (good luck) inscribed on the peel. He is selling them for VND3.5 million ($175) for two.
Liem said that he can get VND600 million from selling unique products this Tet.
Meanwhile, fruit farmers in Chau Thanh District of Hau Giang Province are harvesting 8,000 wine-gourd shaped grade fruits to deliver traders at VND300,000 – 700,000 for two pieces. Farmers in the district also succeeded in growing 1,000 wine-gourd shaped watermelons.
Vo Trung Thanh, a farmer said that he has sold 1,000 wine-gourd shaped watermelons at VND1.5 million – 3.5 million for two.
Tan said that this Tet if he can earn VND5 billion ($250,000), his family will have a prosperous Tet.
Meanwhile, farmers in the Cuu Long (Mekong) Delta have managed a good supply of flower and ornamental trees for the upcoming Tet   festival despite the prolonged flooding in the region last year.