About 12-14 percent of rice produce is lost in the Mekong Delta due to a shortage of harvesters.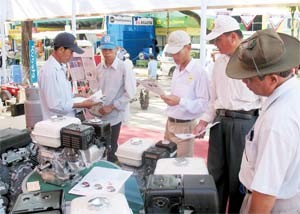 Mekong Delta farmers check out agricultural machines (Photo: SGGP)
The region has only 1,000 combine harvesters and 3,500 mowers, which harvest 15-20 percent of the four million hectares of farming land.
 
Dr. Le Van Banh, Director of the Mekong Delta Rice Institute, said if the rate is reduced to 5-6 percent, the region can save over VND10 trillion ($572 million) within five years.
 
The government has adopted measures to subsidize loan interest rates for farmers in an aim to boost mechanization in the Delta since 2004.
 
Farmers are encouraged to mechanize, especially the use of combine harvesters.
 
However, a harvester's capacity is three to five hectares per day while most of the region's farms produce less than one hectare of rice.
 
Few farmers can afford a harvester. Though the government has created favorable conditions to borrow 70 percent of a harvesters price at subsidized interest rates, many farmers struggle to find the remaining amount of money needed.
 
A harvester costs between VND150-200 million ($8,580 –11,440).