Firefighters have stamped out a bush fire that engulfed 60 hectares of jungle in Dong Thap Province's U Minh Ha Forest.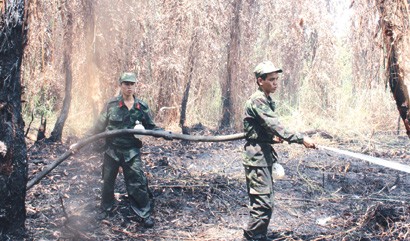 Firefighters extinguish fire in U Minh Ha Forest, which has suffered from the biggest fire this dry season.(Photo:VNA)
Since the dry season began in December, 18 fires have broken out in U Minh Ha, destroying 100 hectares of forest. The most recent was extinguished May 4.
According to the forest management team, the main cause was that people commonly burn bees' nests in the forest to cultivate honey.
Forests in the Mekong Delta are facing a heightened risk of fires due to hot weather and tinder-dry conditions, said the National Center for Hydro-Meteorological Forecast.
Forest management has ordered local authorities to cooperate with forest watch teams, police and local residents who have been put on duty in high-risk areas.
Residents have also been forbidden to light fires in the forest.
In related news, it rained in many areas of the Mekong Delta on May 4, helping to refresh paddies and pushing seawater from the fields.
The heavy rain saved tens thousands of hectares of the summer-spring rice crop and supplied water to thirsty residents in Ben Tre, Tien Giang, Hau Giang and Bac Lieu provinces.
Experts said that the rain meant that seawater would not penetrate Hau Giang Province until the middle of May.
The Tien Giang Province People's Committee plans to open a drainage system to supply water to rice fields as well as to supply water for production by May 15.