The scorching sun and very dry canopy of leaves are increasing the extreme danger of brush fire in 100,000 hectares of forests in the Long Xuyen quadrangular, Ca Mau peninsula, south of Viet Nam.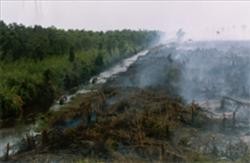 Lower U Minh forest after a fire in the dry season of 2005
Forests in Cam mountain, Tra Su, Ta Pa hill, Kako (An Giang province), U Minh forest-fishery farms 1 and 3, Trem River (Ca Mau peninsula) were marked on the fire-danger map at level 4 and 5 on March 6, 2006.
Noticeably, streams in Phu Quoc island are very drying up and the ground layer under the forests is very dry. This is common at other hot places, too.
Lots of local authorities are actively warning people about fire danger and will impose heavy fines for forest fire violations. Also, they mobilize forces to watch forests for 24 hours a day and to be ready to deal with a fire if it breaks out.
Melaleuca Forest Fire in 2002 in the Mekong River Delta, Viet Nam

The forest fire in the dry season of 2002 had been one of the biggest in the region for the last 30 years.

In the Lower U Minh area, about 5,000 ha of melaleuca forest were burned in March and April, 2002. This represented about 17% of the total forest area. In the Upper U Minh National Park, about 3,212 hectares were affected by fire, accounting for 40% of the total area. In the National Park, 194 hectares of peat were also destroyed by fires. Over 2,100 hectares of peat were also partially burned, leaving only about 600 hectares unaffected. Although the 2002 forest fire caused severe damage, the researchers found that about 60% of the burned area is now slowly re-generating.

According to local experts, one of the raesons that efforts to extinguish the fire is that the cajeput forest has a thick coal layer, about 0.5 to 1.5 meters that can catch fire easily and burn for very long period. Unlike forest fires in the other areas, it is very difficult to spot the fire early because the roots and lowe trunks of the cajeput forest have caught fire even as their canopy remains green.

Source:
Viet Nam Environment Protection Agency
Related Articles: