Farmers in the Mekong Delta have not eaten and slept well in these days due to the return of rats and mice, which have decimated large numbers of rice crops.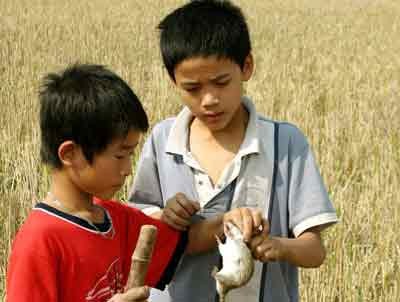 Two boys are hunting field rats
Over 1,500 hectares of fall-winter crops in Tra Vinh Province were destroyed by an infestation of mice.
Farmer Son Danh, in Tra Vinh's Chau Thanh District, visited his one hectare rice paddy at dawn to collect dead mice. These vermin have gnawed 30 percent of the farmer's blossoming field.
Fearing that the rice field would be ruined, Son Danh bought two kilograms of Biorat, a mouse and rat poison to scatter around the field.

Over the first few days, some 60 to 70 per cent of rats were killed; however, the rodents have still ravaged much of the field.
Tran Van Cong, chairman of Farmer Association in My Chanh Ward, Chau Thanh District, said, "Rats have ravaged and destroyed 40 percent of 360 hectares of rice paddies in the village of Giong Trom in My Chanh Ward, including four hectares that were completely destroyed."
Chau Thanh district's Department of Agriculture and Rural Development estimated around 550 hectares were infested by field mice, with five to 30 percent of crops destroyed and 564 hectares in Cau Ngang District with ten to 30 percent of crops destroyed.
While farmers fretted about the skyrocketing numbers of rats and mice, agricultural officials have done little to reverse the situation.
Farmer Nguyen Van Tien in Cau Ngang said farmers were happy to see a team of inspectors ten days ago, yet there has been no feedback to farmers' proposals of rodenticides.
Nguyen Manh Thai, head of Chau Thanh District's Plant Protection, warned farmers to irrigate water into fields in a bid to demolish mouseholes and put rodenticide at the entrances and bushes.
The danger of gnawing rats in the fields of Tra Vinh happened 15 years ago, damaging thousands of hectares of rice paddies. The province launched a campaign to buy the animal's tail and offered money to farmers who killed many mice. The campaign proved effective.
Many are now asking whether officials should try the method one again in order to stem the flow of rodents and protect rice crops.