Landslides are a permanent feature in the Mekong delta during the rainy season, threatening tens of thousands of households living along the riversides; however there is still no organisation specialised in landslide prevention.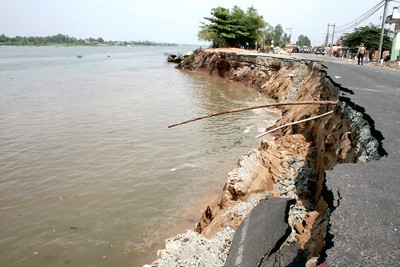 Riverside landslide cuts off Highway 91 in Binh My Commune, Chau Phu District in An Giang Province (Photo: SGGP)
In recent years, the Mekong delta has recorded several severe landslides. The delta's natural resources and environment industry said that areas suffering the most lie along the Hau and Tien Rivers in An Giang and Dong Thap Provinces.
An Giang Province has hundreds of landslide prone spots which might broaden in area anytime in Tan Chau and Long Xuyen towns and An Phu and Chau Phu Districts.
The worst case occurring recently was in Long Xuyen town in early March when a 110 metre long riverbank area fell down, sweeping away 22 houses into the river and hundreds of others were then forced to evacuate.
The most concern is that a 600 metre long bank near the above area is still highly prone to landslides, not only threatening to cut off Highway 91 but also worrisome for 300 households.
Dong Thap Province also has hundreds of landslide prone spots along the Tien and Hau Rivers in 44 communes and wards.
Tien Giang Province has over 200 landslide spots along Cho Gao Canal with spots eating into the mainland by 20 metres.
Most families in the area have moved their houses back by 20-30 metres. Several of them can go no further, as there is no land left for them to continue to move back on.
Nguyen Van Be said that he had moved his house twice as the landslide was about to reach his house basement.
Associate Professor and Doctor Nguyen Huu Chien, from Can Tho University, said that Mekong Delta residents' have a habit of building houses near the riverside to facilitate business, transport of goods and better access for travel. However these areas are usually vulnerable to erosion and landslides, and construction of houses has caused huge pressure on already weak ground.
He said that the delta should survey and map such areas to warn residents for timely evacuation.
Tran Anh Thu, deputy director of the Natural Resources and Environment Department in An Giang Province, said at present there is no specific organisation to do surveys and deal with landslides in the delta.
Only when a landslide occurs, local authorities begin to do surveys, fortify houses and relocate residents. The Mekong Delta should be more innovative and find long-term measures to deal with landslides.