The Mekong Delta's valuable crops could be destroyed by salinization, flooding and drought if the region does not work to tackle the effects of climate change, participants at a seminar have said.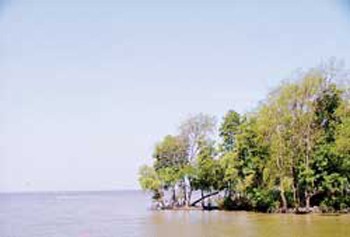 The Mekong Delta needs to protect its natural resources, said scientists at a seminar April 21 (Photo: SGGP)
Scientists from several sectors had gathered in Ho Chi Minh City on April 21 to discuss agricultural development in Vietnam's westernmost region in an event launched as an accessory to the Mekong Delta Economic Cooperation, a conference taking place in Kien Giang Province April 21-June 25.
Though the delta, Vietnam's rice basket, contributed 18 percent to the country's GDP, experts at the meeting agreed that the Mekong region was far from matching its potential for agricultural production.
Environmental scientists, as well as those from the agricultural, forestry and seafood sectors, said climate change was already leading to more floods, droughts and salinization, all of which were taking a serious toll on rice, fruit and shrimp production in the delta.
Dr Dang Kim Son, head of the Institute of Policy and Strategy for Agriculture and Rural Development, said that to sustainably develop agriculture, the delta needed above all to preserve its precious natural resources, namely fertile land and clean water, which are more abundant in the Mekong region than anywhere else in Vietnam. He said the western provinces needed to concentrate on making use of these unique advantages.
Adaptable irrigation plans able to accommodate a variety of natural conditions would be necessary for the region to efficiently utilize its water resources as the climate grows increasingly volatile, he said.
Others at the conference said that while the delta had built an economy focused mainly on exploiting natural resources, it had neglected to invest properly in transportation, electricity and high-tech irrigation infrastructure.
Professor Pham Van Bien, former head of the Institute of Agricultural Science for Southern Vietnam, said that the Mekong Delta was the best place in the country to produce rice, seafood and fruits.
But he said most production was done on a small scale and that producers were "unconnected" by decent infrastructure. He said total production was far below the region's potential because producers were not using science and technology to their advantage.