President Nguyen Minh Triet met with Party committee members and the people of the Mekong delta province of Bac Lieu to request them to retain as much agricultural land and rice-growing areas for the future, to ensure national food security and social welfare.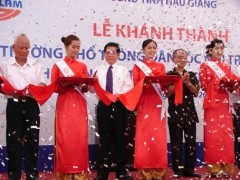 President Nguyen Minh Triet (in purple tie) at the inauguration ceremony in Hau Giang Province.(Photo: Dan Tri)
He also emphasized the need to apply advanced technology in farming and described it as the best way to ensure sustainability in agriculture and in being more conducive for farmers to increase their income.

He urged Bac Lieu province not to develop industry at any cost, saying that industry would only deprive the province of much needed labor, land and human resources.

He suggested that the province should take advantage of training units in the province to provide skilled human resources for cultivation and enterprises in the future.

The President stressed on social welfare for all local residents, particularly the implementation of Party and State policies for those who rendered their services to the nation. The province, he believed should consider this as a guideline policy and take responsibility of their society.
He also said that not only Bac Lieu Province but other localities too in the Mekong Delta must retain enough land for agricultural purposes, especially for rice cultivation, to ensure national food security.
Earlier, President Triet inaugurated the Him Lam boarding school in Chau Thanh A District of the Mekong Delta province of Hau Giang.
The VND75 billion (US$3.6 million) Him Lam JSC sponsored boarding school is the largest in the province and second largest of its kind. It covers 22, 000 square meters, comprises of 70 classrooms and has a facility to accommodate 1,500 students during a school year.
Speaking at the opening ceremony, the President asked teachers to imbibe in students the values of becoming a good human being and ensuring high educational qualities for ethnic minority students.