August nearly ends yet the water level in rivers in the Mekong Delta is still low making the people who live in the region not happy because they fear for a reduction of fish and badly effect on agricultural production.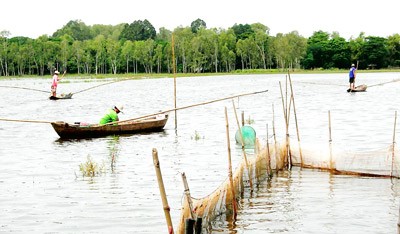 Locals in Long Xuyen Quadrangular area are fishing in big flood (Photo: SGGP)
The delta region's people are waiting for rains and not fear for flooding in these days they need to take advantage from nature to make some extra money. This year, farmers have sighed at dried paddy fields in districts Hong Ngu, Tan Hong, Tam Nong in the Mekong delta province of Dong Thap.
Farmer Doan Ngoc Anh in Tan Thanh A commune in Tan Hong District said farmers in the commune are going to harvest fall-winter crop and waiting for flooding yet there is no sign of flooding. Without flooding, the locals will meet huge losses from catching fish.

Ms. Trinh My Le in Tan Thanh A Commune said flooding will carry loads of silt for paddy fields and curb diseases on rice tree. Moreover, there will be abundance of fishes and shrimp in great flooding helping people to have comfortable lives.

Not only farmers in Dong Thap Province but also the people in An Giang, Kien Giang provinces and Can Tho city are waiting for the rising waters. Le Van Teo in Vinh Binh Commune in Can Tho City's Vinh Thanh District said that the locals make the most of floodwater by raising freshwater crayfish and other fish and growing vegetables.

The Southern Institute for Water Resource Planning under the Ministry of Agriculture and Rural Development said that recently, floodwater in Mekong river is low; for instance the water level in Karti station is lower than the average level ( just equal to 67 percent of other years); accordingly, the water level in Tan Chau and Chua Doc is lower than last year. As per the forecast, on August 22, the water level in Tan Chau was measured 2.2 meter and Chau Doc at 2.05 meter.
Experts from the departments of agriculture and rural development in the Mekong delta said that it is likely that the Mekong delta will have as little as flooding this year. It is worse because as normal farmers will have bumper crop after a big flooding which carry alluvium helping improving soil.

Worse, the region was experiencing great losses which destroy orchard garden because of salinity intrusion last time. They will suffer more if there is small flood.

Accordingly, experts advised farmers to convey floodwater to the paddy field and keep it as long as possible to clean the field.