Provinces in the Mekong Delta have proposed the Government increase this year's rice exports to 4.5 million tons instead of the initial target of 4 million tons.
This proposal was made at a meeting on rice exports held by the Ministry of Industry and Trade in Tien Giang Province on Wednesday. Delegates from the Mekong Delta discussed how to look after the interests of farmers and consumers during the meeting.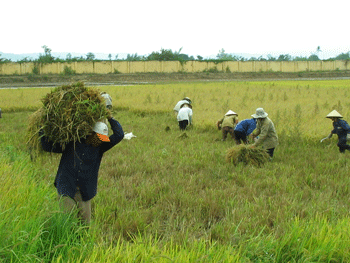 Mekong Delta farmers are enjoying a bumper summer-spring crop so more rice exports won't affect food supply in Viet Nam
The conference met to discuss how to balance rice exports and the domestic food supply, so as not to let the price go up again due to excessive exports.
According to the ministry, Viet Nam exported over 1.6 millions of tons (earning revenue of US$816 million) in the first four months of this year, an increase of 19 percent in quantity and 81 percent in value compared to last year.
Asian countries have imported 57 percent of these shipments and African countries have imported 21 percent.
Exporters, who have signed contracts to export 2.4 million tons since the beginning of this year, want to export another 1.6 million tons.
Meeting participants said that farmers in the Delta are enjoying a bumper summer-spring rice crop. Average yield is 5-7 tons a hectare and a huge rice reserve is available. The security of the food supply is not a problem.
Participants thought that exports should be 4.5 million tons for this year, rather than the target of 4 million. They also suggested that the government should soon allow exporters to sell rice to foreign countries to reduce exporters' difficulties as well as to increase prices at which farmers sell this commodity to traders.