Ben Tre Province will build the "Ho Chi Minh Sea Trail" Monumental Park at the former beach-head in Thanh Phong commune, Thach Phu district, in 2010, the province's municipal government recently announced.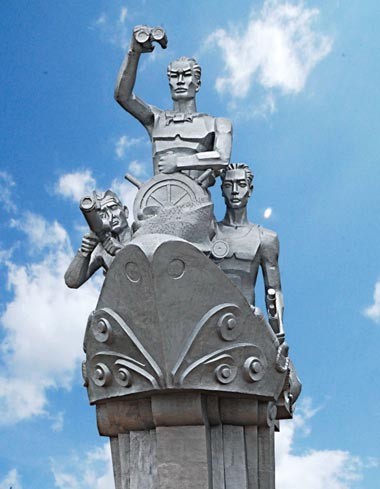 The statue "Victory" memorizing heroic martyrs on Ho Chi Minh Sea Trail in southernmost province of Ca Mau
"Ho Chi Minh Sea Trail" Monumental Park is a project of national importance and remembers the heroes who shipped and received weaponry and ammunition from the North during the war.
The project includes a scaled-down model of the country, including the numerous beach-heads used to receive the arms shipments, with typical arts and cultural features and structures of each area, such as communal houses and pagodas.
Among the main attractions will be the Ho Chi Minh Sea Trail Museum and a full-scale statue of President Ho Chi Minh, erected in the heart of the park.
The project will not only preserve the nation's cultural, historical and revolutionary values, it will also showcase and educate younger generations about those who sacrificed their lives for the country's freedom and independence.
Thanh Phong was one of places in the South Vietnam that received thousands of tones of weapons from the North Vietnam during the American war.
It is also aims to boost the province's tourism by encouraging the development and modernization of traditional handicraft villages.