The Mekong delta provinces are facing the danger of forest fires due to hot weather. Therefore, the forest management service together with local authorities have enforced close observation of forests for 24 hours a day.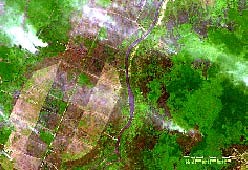 Fire in U Minh forest - Ca Mau Province (Photo taken from satellite)
As for Nui Cam forest where the Via Ba festival is attracting many visitors, the warning of forest fires was given high priority. The forestry department of Kien Giang Province burned deliberately many hectares of meadow around the forests in Kien Luong District to reduce fire threats.
The department also ordered forest owners to take preventive measures and be prepared to fight fire under any circumstances. Meanwhile, afforestation farm management boards have dams built to keep water, helping reduce forest fire threats.