The Mekong Delta in Vietnam is blessed with the best weather, excellent geographic location and a vast area of 3.8 million hectares of rice cultivable area, contributing a great deal towards the global food demand and earning rightfully the term "Rice Bowl of Asia".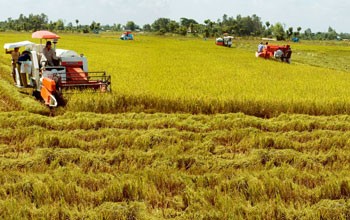 Rice harvesting in the Mekong Delta (Photo: SGGP)
The world population reached a staggering seven billion in October 2011 and while agricultural land is decreasing all over the world, food demand is increasing.
According to the UN Food and Agriculture Organization (FAO), the already record high food prices might go up even higher because of unpredictable and abnormal changes in global climate.
Robert S. Zeigler, Director General of the International Rice Research Institute, said that in the beginning of 2000 the world food stockpile was abundant, but has gradually depleted. By early 2008 it was nearly empty, which then resulted in a food shortage of crisis proportions for about 100 million people throughout the world.
At present, the food reserves are just about enough to ensure supplies for four months, with rice prices incessantly hiking.
Vietnam's development in recent years owes a lot to its rice production, now ranked as the second biggest rice exporter in the world, after Thailand. Rice cultivation skills of Vietnamese farmers have improved over the years, helped substantially by greater investment in irrigation methods.
Agricultural experts from international organizations believe Vietnam has the most advantageous conditions in the world to cultivate rice. However, over the last nine years, the rice cultivable area in the country has shrunk considerably by nearly 590,000 hectares. The Mekong Delta alone has lost 205,000 hectares.
Associate Professor and Dr. Bui Chi Buu, head of the Institute of Agricultural Science in Southern Vietnam, said that agricultural risk caused by factors like natural disasters and disease is but miniscule in southern region, but is about 30 percent in the northern regions and 50 percent in the central regions.
With such a huge advantage, the Mekong Delta should give higher priority to rice cultivation, already holding 45 percent of rice cultivable land in the country.
According to Diep Kinh Tan, Deputy Minister of Agriculture and Rural Development, the Mekong Delta should develop specialized rice cultivation over larger tracts of land and mechanize the production process.
 
Besides, bigger warehouses should be built to hold larger stockpiles of rice that can stay preserved in good condition for longer duration. Processing units, ports and rice trading floors should also be developed simultaneously to maintain an uninterrupted supply chain, said Tan.
Dr Le Van Banh, head of the Mekong Delta Rice Research Institute stressed that basic infrastructure was of vital importance and should be improved without delay to serve the development process.