Construction of dams and climate changes have much affected to the Mekong River, worsening seawater penetration and fresh water shortage in dry seasons in the Mekong Delta.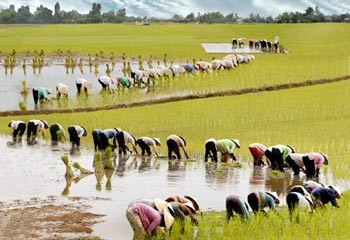 Salt intrusion has threatened rice production in the Mekong Delta
The Vietnam National Mekong Committee (VNMC) made the statement at a plenary session held in Ho Chi Minh City April 28 with the attendance of seven ministries and 17 provinces and cities from the Mekong Delta and Central Highlands regions.
The Mekong Delta should save and effectively use freshwater sources, according to VNMC.
Minister of Natural Resources and Environment Pham Khoi Nguyen who is also chairman of VNMC said that the Netherlands has pledged to assist Vietnam to cope with climate changes through a strategic cooperative program between the two countries.