Enterprises in southern Viet Nam's Mekong River Delta are in dire need of both skilled and unskilled labors.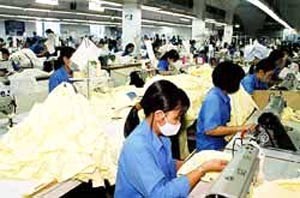 The Mekong Delta has great demand for unskilled workers to work at textile factories.
Nguyen Quoc Vung, director of the Youth Employment Service Center in Can Tho City, said his center has received 400 orders for 4,000 employees from 300 enterprises in Can Tho, Vinh Long, An Giang, Dong Thap and Hau Giang since early this month.
However, it could supply only 150 unskilled workers out of the 3,000 vacancies, or about 5 percent, to work in construction, garment, food processing, seafood and sales.
For positions requiring college or university degrees, the center could satisfy only 30-50 percent, he added.
He attributed the shortage to more and more enterprises being established recently or existing ones expanding their operations.
Meanwhile, unskilled workers are not interested to work at big companies because "they want high salaries and easy jobs close to homes", he added.
For college or university degree employees, he said, they generally do not meet recruiters' requirements.