The Mekong Delta should seek measures to adapt to climate change instead of building works to cope with the increasingly severe drought and salt intrusion, said Dr. Le Van Banh, head of the Department of Agricultural, Forestry, and Fishery Products and Salt Production under the Ministry of Agriculture and Rural Development.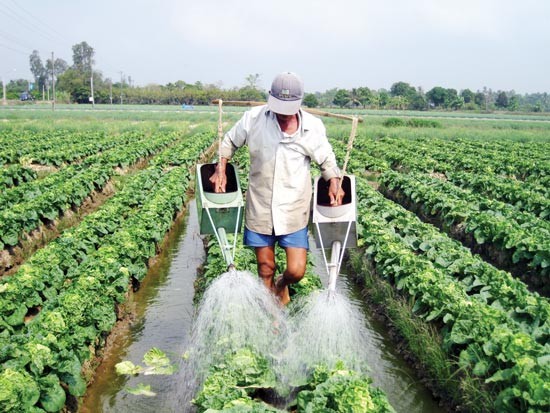 Vegetable farming has still been profitable amid the drought season alongside Hau river, Vinh Long province (Photo: SGGP)
Sai Gon Giai Phong Newspaper has recently interviewed agricultural expert Le Van Banh, former head of the Mekong Delta Rice Research Institute, on the increasing damage by drought and salt intrusion to agricultural production in the delta.
Vast farming areas of rice, fruit, vegetable and seafood have been badly hit by drought and high salinity, which is unlikely to end but continue worsening in the next three months. The problem was not unexpected because scientists and authorized agencies had forecast fierce drought and salt penetration in the delta for tens of years ago, Mr. Banh said.
According to climate change scenario by the Ministry of Natural Resources and Environment, the sea level in the Mekong Delta will rise 100 centimeters by 2100 when about 40 percent of the delta's area will experience salt penetration.
Authorized agencies have stepped up popularization to raise local authorities and residents' awareness of the issue and implemented measures to deal with climate change. The existing severe drought and salt intrusion is considered as a 'double disaster' which has ranged across wide area.
Authorized agencies should determine the impact level of drought and salt intrusion, how they have taken place and will be to find suitable solutions for both short and long terms.
The problem is to adapt to or cope with the problem. The Mekong Delta has implemented many works to cope with drought and salt penetration. However they have not brought much effectiveness for being built in an asynchronous and unconnected manner among provinces.
A large area of Israel is desert but the country has developed the world's leading agricultural projects. 27 percent of the Netherlands is located lower than the sea level but the nation has been the top agricultural exporter in Europe, analysed Mr. Banh.
Therefore, the Mekong Delta should adapt to drought and saltwater now as well as in the future because it will be more difficult to move against nature disasters than adapt them, he affirmed.
One of measures for climate change adaptation is to reorganize and rationalize agricultural production. Each province should have appropriate production models and find which plant, animal or seafood suiting local ecological conditions.
The Government should be the pioneer in finding effective production measures and guide farmers to carry out them.
Many shrimp breeders have earned an income level which is tenfold higher than that from rice farming in coastal provinces of the delta. Fruit planting zones have brought good economic effectiveness in Tien Giang, Ben Tre and Dong Thap provinces. Vegetable zones in An Giang and Vinh Long have well performed year-round, even amid the drought season.
In addition, authorized agencies should study saline-resistant rice and fruit varieties. The Mekong Delta now has some rice varieties that can accommodate to 4‰ salinity. Changing production models to adapt drought and salt intrusion should be in association with market demand, in which businesses play an important role.
Related agencies should have policies to draw businesses to join hands in seeking which kind of plant or animal that farmers can invest in if they stop rice production in each province or zone, where they can sell their products and how much the prices.
One of the most important thing is that provinces should work together to create a regional connectivity to prevent them from farming the same products, resulting in low efficiency and waste, Mr. Banh concluded.