The Mekong Delta is a "hot spot" for climate change, which is a concern for Vietnam, as well as the world, so relevant agencies should focus on the situation, the Minister of Natural Resources and the Environment, Pham Khoi Nguyen, has said.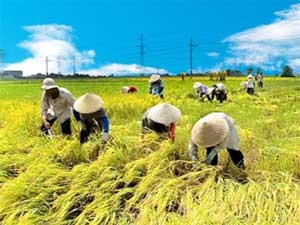 Farmers work in a rice paddy in the Mekong Delta. The region has recently seen a rise in problems caused by climate change.
Speaking at the first forum of "Climate change in the Mekong Delta," which wrapped up November 13 in Can Tho City, Mr. Nguyen said the impacts of climate change have already been seen in the delta, with an increase of high tides, storms, floods, droughts and sea-water infiltration.
Therefore, he said, scientists and relevant agencies should choose the delta as a center for their research and help create solutions to ease those negative impacts.
The result of research in the delta will serve as experiences for other regions around the world to deal with the climate change, he said.
There should be a specific plan of action following the forum to improve the public's knowledge of climate change and to cope with developments of climate change.
The region's social and economic development plan should also be re-considered so that it can adapt to climate change, he said.