Two Mekong Delta provinces of Dong Thap and An Giang have stepped up measures to control and prevent landslides along the Tien and Hau Riverbanks.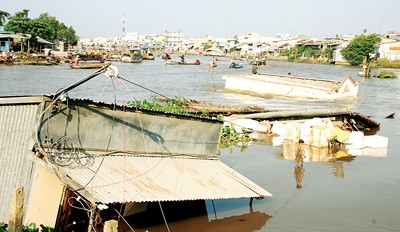 Landslides have swept away hundreds of houses into the river in the Mekong Delta in recent years (Photo: SGGP)
Dong Thap Province is targeting the most vulnerable and highly susceptible areas along the Tien River to tackle any more landslips from taking place. More than 900 households located along the riverbanks already need to be evacuated.
Landslide control projects are also being stepped up along Vam Cai Doi River in Sa Dec Town, Tien River in Chau Thanh District, Xang Lap Vo and Tien Rivers in Lap Vo District in Dong Thap Province.
In An Giang Province, the Department of Natural Resources and Environment said that 45 sections along the Tien and Hau Rivers are prone to landslides, and 11 out of these are on the verge of collapse.
The provincial People's Committee has instructed local authorities to regularly update people on landslide conditions and evacuate people from the most danger prone areas.