The Department of Plant Protection under the Ministry of Agriculture and Rural Development has sent a document to its sub-departments in the Mekong Delta to adopt preventative measures against breeding and sale of coconut worms.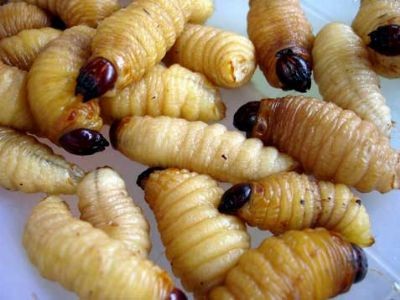 Coconut worm
As coconut worms are turning out as a speciality at some restaurants, many people are buying the worms at a high price of VND5,000-10,000 per worm. As a result, coconut farmers are breeding the worms to sell to restaurants.
The worms live on top of coconut trees and eat only the best part of the coconut tree, leaving high infestation which can kill the tree, leading to high production loss.
Concerned agencies have strictly forbidden the breeding and selling of coconut worms, as per Article 7 of the Ordinance on Plant Protection and Plant Quarantine.
Huynh Thanh Hung, Chief of the Department of Plant Protection in Ben Tre Province, famed as the country's premier coconut growing region, said his department inspectors discovered Tran Van Lam in Luong Hoa Commune in Giong Trom breeding 40 containers of coconut worms from October 2012 till now. Inspectors issued a warning and forced him to destroy all the creatures before October 30.
The department has ordered people's committee in communes to enhance inspection of households breeding the harmful worm and issue proper penalty on breeders.