Farmers in the Mekong Delta provinces have entered sugarcane crop of 2015-2016 with joy of bumper crop and high sugarcane prices.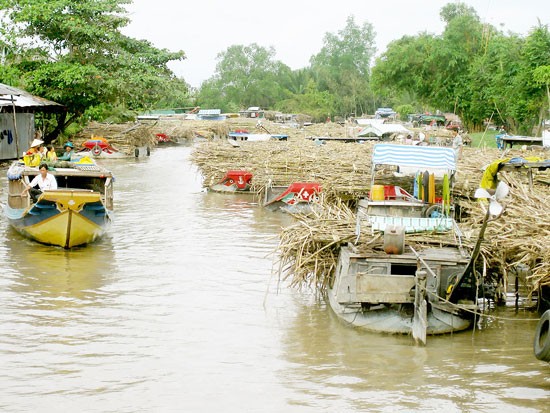 Sugarcanes are being transported to Vi Thanh Sugar Plant in Hau Giang Province. (Photo: SGGP)
Currently, traders bought sugarcanes at VND950-1,000 per kilogram at the field, VND200 higher than that in the same period last year. This price level ensures profits for farmers.
Phung Hiep District and Nga Bay Town in Hau Giang Province are places where sugarcanes were harvest earliest among provinces in the Mekong Delta. During these days, farmers feel motivated as early sugarcanes are not only sold at high prices but also easily.
Le Van Gan, a farmer in Phung Hiep District's Hiep Hung Commune, happily said that this year he grew 7,000 square meters of sugarcanes. Many traders offered him a price of VND970 per kilogram. After excluding all expenses, he had a profit of VND20 million for this sugarcane crop.
Sharing the same joy, Truong Van Hien, chairman of 200-ton Sugarcane Club in Hiep Hung Commune, said that it had been a long time that sugarcane growers were able to smile again as traders and sugar plants rushed to buy sugarcanes.
According to Mr. Hien, during the past three years, selling sugarcane had become a nightmare to farmers in Phung Hiep District as well as other places as sugarcane prices were extremely low and traders and sugar plants refused to buy sugarcanes, causing huge losses to farmers. The situation now has much improved with sugarcane prices climbing and farmers being able to sell sugarcanes at any time.
Tran Van Xuan, a farmer in Hiep Hung Commune, who has just sold his sugarcanes at VND1,000 per kilogram, said that owing to high prices, farmers concentrated on taking good care of their sugarcane fields. As a result, sugarcane productivity improved, raising up to 170 tons per hectare. This year, he made a profit of VND30 million from sugarcanes.
According to Nguyen The Tu, deputy director of the Department of Agriculture and Rural Development of Phung Hiep District, there were around 7,805 hectares of sugarcanes in the district. Local farmers have harvested around 1,000 hectares of sugarcanes and will continue harvesting within the next two months. This year, thanks to favorable weather, farmers do not have to harvest sugarcanes early so they are able to improve the quality of their sugarcanes so as to sell them at higher prices.
The Vietnam Sugar and Sugarcane Association (VSSA) said that the price of refined sugar is currently at VND13,000-14,000 per kilogram, up VND1,500 per kilogram compared to the same period last year. Because sugar prices were high, sugar refineries raised sugarcane purchasing rates in order to give benefit to farmers.
According to the association, by the end of September, 4 out of 9 sugar refineries in the Mekong Delta provinces have begun operation. It was expected that 5 remaining refineries would altogether enter new crop this month. Thus, the demand for sugarcanes will definitely increase in the near future.
Nguyen Hoang Ngoan, deputy CEO of Can Tho Sugar Joint Stock Company, said that although sugarcane prices at the beginning of the crop were fairly high, his company had continued to increase sugarcane purchasing rates to VND1,050-1,100 per kilogram during the past few days. With such rate level, sugar refineries almost make no profits but they still have to buy sugarcanes because many provinces have been decreasing drastically the area of sugarcanes, leading to a shortage of material for refineries.
It was estimated that this crop Hau Giang Province reduced about 1,500 hectares of sugarcanes compared to previous crop; Soc Trang Province's Cu Lao Dung District also slashed more than 800 hectares. In Ca Mau, Tra Vinh, and Long An provinces, a large number of area of sugarcanes was also replaced by other cultivars.
Ho Thanh Kiet, director of the Department of Agriculture and Rural Development of Cu Lao Dung District, said that farmers abandoned sugarcanes because they had suffered losses for several consecutive years. In the past three years, the area of sugarcanes dropped to 6,600 hectares from 8,200 hectares. The district aims to keep the area of sugarcanes steadily at 6,500 hectares by 2020. If sugar plants do not foster investments in material growing areas, underwrite sugarcanes, and maintain purchasing rate at high levels, sugarcanes will continue to be overshadowed by shrimps and other cultivars. Once the area of sugarcanes drops at the same time, sugar refineries will be in distress due to a shortage of material.
The VSSA said that sugar price should be high so that sugarcanes will be bought at high rates. However, sugar prices depend on the market. Meanwhile, cost prices of local sugar refineries remain high and mechanism of import and export of sugar is still vague. In addition, illicit sugar from Thailand which is sold at extremely low prices will crush local-made sugar. These long-lasting issues should be resolved quickly and thoroughly for domestic sugar industry to develop strongly.