In a new initiative, people living in highly flood vulnerable areas in the Mekong Delta are fortifying the dyke systems there, relocating residents and taking advantage of seasonal flood to do farming, instead of running away as earlier.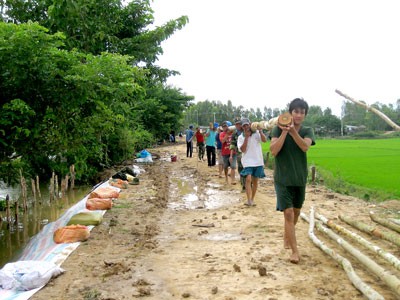 Residents fortify a dyke in Dong Thap Province (Photo: SGGP)
An Phu District of An Giang Province has enlarged its autumn-winter rice crop area to 3,000 hectares, an increase of 1,400 hectares over the same period last year, said Nguyen Van Thanh, secretary of the district Party Committee.
The district has increased the rice farming area as the dyke system has been fortified. Besides, local people are now experienced in coping with flooding, and now choose to live with it, instead of by avoiding it.
Nguyen Van Binh, a resident in Long Binh Town, said that when floodwaters surged in previous years, they had to evacuate their houses while vegetables and rice crops were left inundated, causing huge damage.
This year, the dyke system has been built to protect roads and houses from being inundated and making it possible for residents to farm in the flood season.
Vo Thanh, director of the Hydro Meteorological Center in An Giang Province, said that the flood level is now lower than average of several previous years in the upper reaches.
However local authorities and residents are still vigilant because of unusual climate change. 
According to the Department of Agriculture and Rural Development in Dong Thap Province, farmers have begun to produce 110,000 hectares of autumn-winter rice crop this year, up 11,500 compared to the last season.
One hectare is expected to produce 5-5.2 tons yielding more than 568,000 tons of rice.
Le Minh Hoan, chairman of the People's Committee in Dong Thap Province, said that they have learnt from devastating flooding last year to invest in the dyke system and carefully calculate the right time to begin seeding and harvesting.
Besides the province has also taken advantage of floodwater to breed giant prawns and fish, cultivate mushrooms, build boats and weave fishing nets.
The provincial People's Committee has declared emergency conditions for landslides along six kilometers of riverbanks in Chau Thanh, Lap Vo and Thanh Binh Districts and Sa Dec Town. Local authorities are prompted to quickly evacuate residents to safer places.
The province now has a total of about 100 landslide spots with more than 1,200 households in need of relocating in an emergency.
Tran Quang Cui, deputy director of the Department of Agriculture and Rural Development in Kien Giang Province, said that they plan to produce 63,500 hectares of autumn-winter rice crop in districts with strong dyke systems.
Nguyen Thien Phap, from the Steering Committee for Flood and Storm Prevention of Tien Giang Province, said that the province is also struggling to cope with flooding.
Local authorities have been instructed to fortify dyke routes, handle tens of landslide spots along riverbank areas to protect 40,000 hectares of fruit orchards and prepare to evacuate 20,000 people from coastal areas in case a powerful storm rolls in.