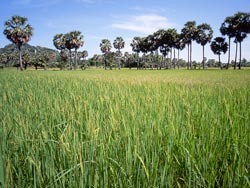 A paddy field in An Giang Province (Photo: TC)
After an urgent message from the Prime Minister, the workshop on seeking urgent measures to stamp out the "ray nau" (a small brown insect) epidemic which is ravaging paddy fields in the Mekong Delta was held by the Ministry of Agriculture and Rural Development (MARD).

According to of MARD's Plant Protection Department, the insects have attacked over 65,000 hectares of paddy fields in Mekong Delta provinces, of which 4,600 hectares are hardest hit. After the Lunar New Year holidays, the pests have ravaged rice fields in the region with an increasing density, and the highest recorded amount of 10,000 hoppers per square meter.

Scientists said that densely planted rice areas, abnormal climatic changes and misuse of pesticides can contribute to the widespread epidemic.

MARD Deputy Minister Bui Ba Bong asked relevant agencies to protect the Mekong Delta's rice yields and give priority to the task of pest prevention. The ministry has, up to now, prepared enough pesticides to fight against these insects.