Farmers in the Mekong Delta are undecided about the rice variety to grow this summer-autumn crop as each season rice traders seem to change their pattern of purchasing according to market demand.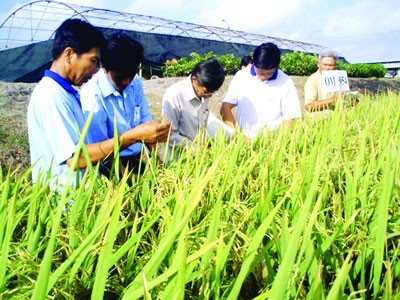 Farmers are confused on rice variety seed for the summer-autumn crop in the Mekong Delta (Photo: SGGP)
Farmers have so far harvested 75 percent of the winter-spring crop and begun to seed for the summer-autumn season. However, they are undecided on which rice variety to cultivate next.
According to agricultural experts in An Giang and Kien Giang Provinces and Can Tho City--areas for high quality rice cultivation in the Mekong Delta--farmers produce fragrant and high quality rice which requires much more time, effort and cost. However, traders still pay low prices.
Last year, they paid VND7,000 a kilogram for fragrant Jasmine rice, which has fallen to VND6,100-6,200 now, said Doan Ngoc Pha, Deputy Director of the Department of Agriculture and Rural Development in An Giang Province.
Pha said that the Ministry of Agriculture and Rural Development has encouraged residents to produce fragrant rice. However, businesses preferred purchasing low quality IR 50404 variety from the winter-spring crop.
Tu Nghiem, a rice grower in Thot Not District in Can Tho City, said that cultivation of fragrant rice is risky because of lower resistance to disease, compared to low quality rice.
However, businesses are unpredictable and farmers are unable to plan rice variety to grow for next season, he said.
Consumption and price of fragrant rice is the lowest in Can Tho City, which cultivates upto 40-60 percent of this variety in the winter-spring crop. 
The Mekong Delta plans to seed about 1.68 million hectares of summer-autumn rice this year with output expected to reach 9.3 million tons. However farmers are uncertain on choice of seed.
The Department of Cultivation under the Ministry of Agriculture and Rural Development has recently provided rice seed for the summer-autumn crop with most being high quality and fragrant rice but not the low quality variety.
The Ministry of Agriculture and Rural Development has advised farmers to grow only around 15-20 percent low quality rice. However, this ratio is higher in some localities.  In a recent inspection in Tra Vinh Province, the Cultivation Department found that farmers cultivated upto 40 percent of IR 50504.
Professor and Dr. Bui Chi Buu, head of the Institute of Agricultural Sciences for Southern Vietnam, said that the Mekong Delta should not focus on cultivation of fragrant rice because the world demand is only VND2-3 million tons a year, whereas Thailand produces 1.6-1.8 million tons, and India 300,000 tons.
Production of low quality rice should also be reduced due to strong competition from Myanmar and India. He advised the Mekong Delta to concentrate on production of long grain white rice. Already, several Vietnamese businesses are heading towards this market segment.
Rice prices stable after gov't stockpile program
Rice prices in the Mekong Delta remained stable even as several businesses completed purchase of quota of one million tons of rice for the government stockpile program on March 28.
Traders are paying VND5,000-5,100 a kilogram for IR 50404 rice variety, VND5,200-5,300 for long grain rice and VND5,600-5,700 for fragrant Jasmine rice.