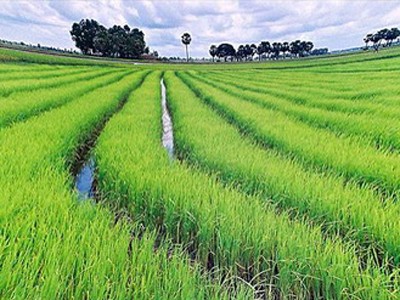 A young rice field in the Mekong Delta region
Unseasonal rains have persisted over the last few days causing much damage to recently sown rice.
The Department of Agriculture and Rural Development of Dong Thap province reports that 13,449 hectares of rice paddies were flooded, of which 7,612 hectares were completely damaged and 5,592 hectares will need to be planted again.
Cao Lanh and Tan Hong districts reported most damage: 1,845 hectares and 1,309 hectares respectively.
Flowering rice fields have also been seriously damaged by floods.
In An Giang province, around 25,00 hectares of winter-spring crops were flooded with 12,000 hectares needing to be sown again, the province People's Committee Deputy Chairman Huynh The Nang said.
In Long An province, over 600 hectares of recently sown rice were also submerged by flooding, over 120 hectares will have to be replanted.