At a working session in the Mekong Delta May 11, Party Chief Nong Duc Manh urged districts and communes in Can Tho City to focus on advanced science and technology, and biotechnology in order to develop agriculture, industrialize and urbanize rural areas.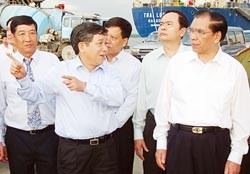 Party Chief Nong Duc Manh (1st, R) discusses the Can Tho Bridge project. (Photo: SGGP)
The Party Chief Nong Duc Manh visited Binh Thuy District, Mekong Delta Rice Institute, O Mon Power Plant, Cai Cui Port and Phu An area on May 11, as part of his on-going work in the Mekong Delta.
Mr. Manh praised local authorities and local residents in developing their economy.
At the Mekong Delta Rice Institute, Mr. Manh applauded scientists for enhancing productivity and quality of rice.
He added that the institute needs to continue research and release findings to help farmers enhance productivity.
Visiting Cai Cui Port, Mr. Manh said it is necessary to dredge the Dinh An channel to allow access for boats with dead-weight tonnage of up to 20,000 tons.
The Mekong Delta consists of 13 provinces and several cities with a total area of 39,712 square kilometer and population of 17 million people.
The region plays a vital role in the national production of rice. It is also noted for its aquaculture produce.