Sugar plants in the Mekong Delta have entered their 2015-2016 production season amid alarming fall of sugarcane area.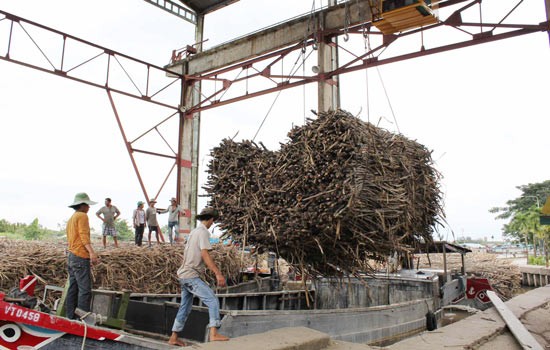 Sugarcane is being loaded aboard before transported to processing plants in the Mekong Delta (Photo: SGGP)
The sugarcane area dropped 50 percent to only 700 hectares in Ca Mau province last year. Similar condition has also occurred in other provinces of the delta.
Chairman of the Vietnam Sugar and Sugarcane Association Nguyen Thanh Long said that the Mekong Delta's sugar industry has faced many challenges comprising sugarcane area drop, which require processing plants to cooperate with farmers to overcome.
The association has reported a year on year reduction of 6,000 hectares to only 41,880 hectares in the delta this crop.
A leader of Kien Giang sugar plant said that practical area might be lower than that. Kien Giang province alone has less than 2,000 hectares not 4,600 hectares as per the association's report.
Plants have also faced difficulties in purchasing materials with regulations on commercial cane sugar (CCS) by the Ministry of Agriculture and Rural Development, that rule that businesses are just permitted to buy sugarcane reaching at least nine CCS.
Representatives from Can Tho sugar company and the Department of Science and Technology in Hau Giang province said that they had conducted many inspections but yet to find any sample meet the requirement.
 
Deputy Chairman of the Hau Giang province People's Committee Truong Canh Tuyen asked sugar plants to just start the production season when sugarcane fields have been mature enough for harvest to ensure high CCS.
Sugar plants have agreed with paying the floor price of VND860 a kilogram of 10 CCS sugarcanes, VND119 higher than requirement by the Ministry of Agriculture and Rural Development.
However, that price is said not high enough to prevent sugarcane farmers from quitting.
Phung Hiep district, Hau Giang province is one of three largest sugarcane zones in the delta with 11,500 hectares.
Director of the provincial Department of Agriculture and Rural Development Nguyen Van Dong said that sugarcane growers have earned less than rice growers. The province's efforts have been able to sustain 10,000 hectares of sugarcane area, a reduction of 1,500 hectares.
Authorized agencies should paid attention to control import sugar which has flowed into local market and to help farmers reduce sugarcane cost prices.