SOC TRANG (VNS)— The area under fragrant rice varieties in the Cuu Long (Mekong) Delta province of Soc Trang has increased in recent years, helping farmers improve their lives.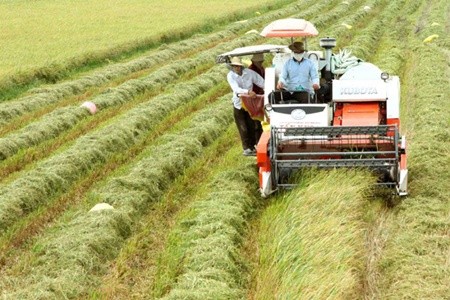 Farmers harvest rice in Long Duc Commune in the southern province of Soc Trang's Long Phu District. Local farmers have been able to significantly lift their incomes thanks to a fragrant strain of rice. — VNA/VNS Photo Duy Khuong
Around half the fragrant rice grown in the province is of the ST variety - from ST1 to ST21 — created by local scientists.
Tran De, Thanh Tri, and My Xuyen districts and Nga Nam town account for most of the fragrant rice grown here.
In Tra Ong Hamlet in Tran De's Vien Binh Commune, many farmers have become wealthy growing the grains.
Tran Nhenh, who grows ST5 on 5ha in Tra Ong, said his family earned VND100 million (US$4,700) from each crop.
"ST5 is planted thrice a year and has consistent yields if proper farming techniques are used," he said.
ST5, which is resistant to diseases and grows well in saline-affected soil, has an average yield of eight tonnes per hectare.
Before 2000 Tra Ong, which has more than 800 families of whom 96 per cent are ethnic Khmer, was one of Vien Binh's poorest hamlets with a poverty rate of more than 50 per cent.
Since then transportation and irrigation systems have been developed here and farmers gradually switched to high-quality rice varieties like ST5.
The poverty rate is now down to 15 per cent and more than 50 per cent of its people are wealthy.
Duong Thanh Hung, deputy chairman of the Vien Binh Commune People's Committee, said the prosperity was owed to ST5.
"Thanks to the planting of ST5, the lives of farmers, especially Khmer ones, have improved significantly."
Tra Ong has set up the May 1 Cooperative with more than 700 households to grow ST5.
The co-operative's members have contracts with food companies to sell their rice and thus have a stable outlet.
Tran Hoang Dung, deputy head of the Tran De District Agriculture and Rural Development Bureau, said from 13 per cent in the beginning, the area under ST rice varieties had increased to 30 per cent now, with most of it being ST5.
Tran De planned to grow ST5 in all its rice cultivation areas, he said.
The grain fetched VND700-1,000 a kilogramme higher than normal varieties, he said.
"Traders like ST5 because it has high quality and demand."
Farmers who grow ST5 and ST20 in large-scale rice fields have contracts to sell to food companies.
To develop the farming of fragrant rice varieties, local authorities offer training to farmers.
Quach Van Nam, director of the province's Department of Agriculture and Rural Development, said farmers wanted to grow fragrant rice varieties that have guaranteed outlets.
"We support this trend and will try to expand this model," he said.
Soc Trang's soil is ideal for growing fragrant rice.
Its grains are in much demand in the domestic market and are also exported to several countries, including China.
Soc Trang is the delta's leading province in growing fragrant rice, having increased the land under these varieties to 83,000ha this year from 57,000ha last year, according to the department.
Of this 19,000ha are part of 163 large-scale fields formed by pooling lands belonging to nearly 15,000 families.
The National Office of Intellectual Property awarded the "Soc Trang fragrant rice" trademark to the province's ST varieties in 2011.
In 2011 ST20 won the first price in the " Delicious Rice – Viet Nam Brand" contest.