Farmers in the Mekong Delta have harvested most of the winter-spring rice crop they planted on 1.55 million hectares, getting an average yield of 6.5 tons a hectare, a third of a ton higher than last year's crop.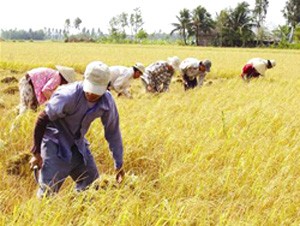 The Mekong Delta's winter-spring rice crop this year has been a bumper one and the grain is fetching excellent prices (Photo: Tien Phong)
Tan Hiep and U Minh Thuong Districts in Kien Giang Province, Long Xuyen, Chau Phu District in An Giang Province, and Vinh Thanh and Thot Not Districts in Can Tho have seen higher outputs of seven to 11 tons.
Rice prices in the region are high, with traders paying VND4,200 to 4,300 for a kilogram of IR50404, and 4,300 to 4,650 for higher quality rice. A kilogram of Jasmine rice costs VND4,800 to 5,000.
In Can Tho City April 15, factories processing rice to export still buy rice with high price as in March.
Large rice exporters in Can Tho buy 1,000 to 3,500 tons a day.
The high output and prices have seen farmers make profits of 40 to 50 percent.